2020 TRIA SPECIAL ISSUE (SUBMISSION DEADLINE: MARCH 01, 2020)
2020 年 1 月 1 日
2020台灣風險與保險學會國際研討會暨年會
2020 年 8 月 11 日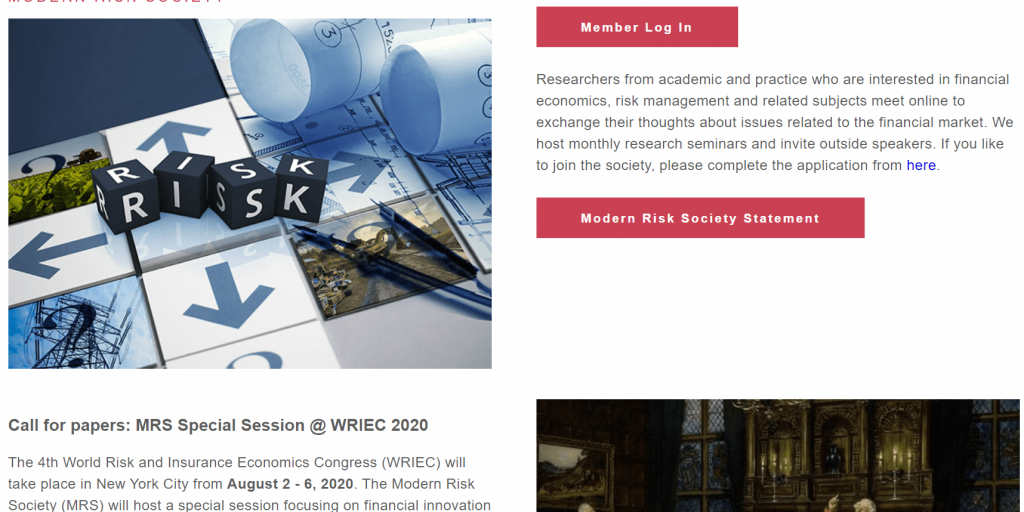 MRS Special Session @ WRIEC 2020
Call for Papers
The 4th World Risk and Insurance Economics Congress (WRIEC) will take place in New York City from August 2-6, 2020. The Modern Risk Society (MRS) will host a special session focusing on financial innovation and risk management issues. For people interested in the special session, please submit your paper to The 4th World Risk and Insurance Economics Congress (WRIEC) in Acrobat (pdf) or Word (docx) format using the WRIEC abstract submission platform. In the meantime, please send your paper together with paper title and submission ID to aria_mrs@outlook.com. The deadline for submission is February 1, 2020.
Papers already accepted for publication should not be submitted. The MRS committee has the authority to accept 4 papers for the special session, and recommend as many papers as we feel appropriate to the ARIA committee for the other sessions. Authors will receive e-mail of the WRIEC program committee's decision regarding their paper by the end of April 2020. Papers accepted to the special session will be notified by MRS as well. All the requirements from WRIEC are applicable to the special session participants.
The preference of the accepted papers will be given to MRS members on the following topics (not limited to):
· Fintech and financial innovations
· Financial market stability, leverage, systemic risk, and regulation
· Frictions in insurance markets
· Innovations in financial risk management
· Catastrophe risk modeling
The conference will be organized by the American Risk and Insurance Association (ARIA) and co-organized by the European Group of Risk and Insurance Economists, the Asia Pacific Risk Insurance Association, and The Geneva Association. For information about the forthcoming WRIEC, please visit http://aria.org/events/world-risk-and-insurance-economics-congress-wriec/ and www.aria.org for ARIA.
The program committee of the MRS Special Session @ WRIEC is chaired by Dr. Ruo Jia from School of Economics at Peking University. Members include Lin Guo (Suffolk), Rachel Huang (NCU), Jia He (Nankai), Van Son Lai (U. Laval), Yifei Li (Nevada), Joseph Qiu (Guy Carpenter), Tianyang Wang (Colorado State), Youchang Wu (Oregon), and Tong Yu (Cincinnati).
台灣風險與保險學會
Taiwan Risk and Insurance Association
www.tria.asia